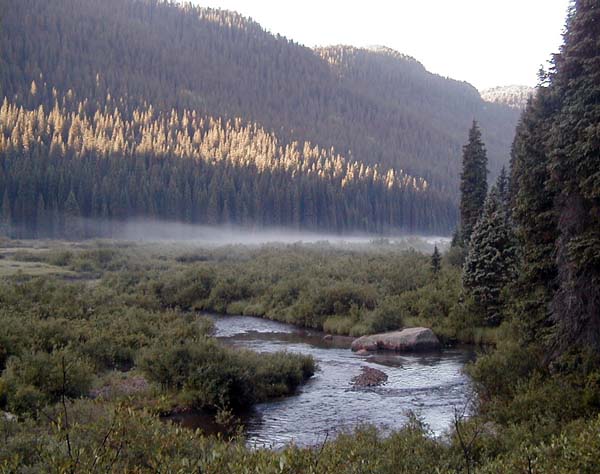 This view of the Los Pinos valley was taken from our campground across the river from Granite Peak. The morning dawned clear and beautiful, with mist rising from the river in the cool morning air.

We packed up, and hiked down toward Flint Creek. Crossing the creek, we noticed black clouds gathering over the peaks up the drainage, building in our direction, and began to hear thunder and see lightning. We stopped about a mile and a half up the creek, and fixed lunch. Our noon meal is actually the big meal of the day, which we cook and do the dishes for before resuming hiking. This serves several purposes.

It gives us a nice long break between the morning and afternoon hikes. It refuels us for the afternoon hike. It is also the only meal of the day we actually cook, eating trail food and snacks at night, and cold breakfast food, which means that bears, which are attracted to cooking odors, are attracted to the place we had lunch, rather than our camp! In country like this, black bears, while present, are not much of a threat, but doing this in grizzly bear country, like Wyoming and Montana, and thus not attracting grizzly bears is something the prudent hiker tries with great diligence to accomplish.

After lunch, we decided that being up on the divide was not the prudent place to be, and we retreated down the Flint Creek drainage.

We headed back up the valley of the Los Pinos river. The storm caught up to us, and dropped very cold rain and hail on us. We hiked on down in the valley protected from lightning by the peaks and the lovely aspen forest the trail wound through. It rained all afternoon, and on into the evening.

We kept hiking until after six o'clock, because hiking in the rain is not noticeably less annoying that sitting in a small tent in the rain.

Eventually, we camped in a nice grove of pine trees, where it was drier under the rain, crawled into our tent to warm up, and went to sleep.