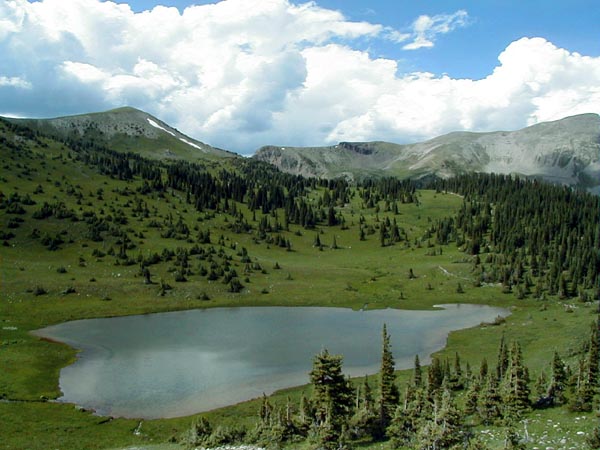 Once we took off on the South Fork trail, though, we didn't see anyone else the entire day. The South Fork trail is little used, is not maintained by the Forest Service, and has lots of trees down across the trail that one has to either climb over or find a way around.

It was, though, pretty easy to follow despite the lack of use. The only places we had to hunt around to find the trail were near a couple of meadows which grow over with high grass annually, obliterating the trail. By following the directions in the trail guide, we were able to get across the meadows and find the trail on the other side. A couple of the meadows did have post markers in them to help show the way. Along the way, we stopped and ate our main meal of the day.

Eating our big meal of the day around noontime has several distinct advantages. It gives us a long break between the morning and afternoon's hikes. It gives us hot, nutritious food to get us through the afternoon's walk. It also keeps cooking odors well away from where we are going to sleep, which, in country with agressive bears, is a great advantage. It also means that, since we will not cook our evening meal, we have done our major meal effort and cleaned up all our cooking gear, avoiding those chores when we are tired from the afternoon's effort. Since we always pick a lunch stop near a water source, we also have the option, should we choose to use it or need to, of pitching an evening camp which is not near a water source.

Eventually we reached the top of the trail, which ends at its intersection with the CDT. Following the CDT north, we eventually reached this lovely overlook with a view of Spotted Lake.