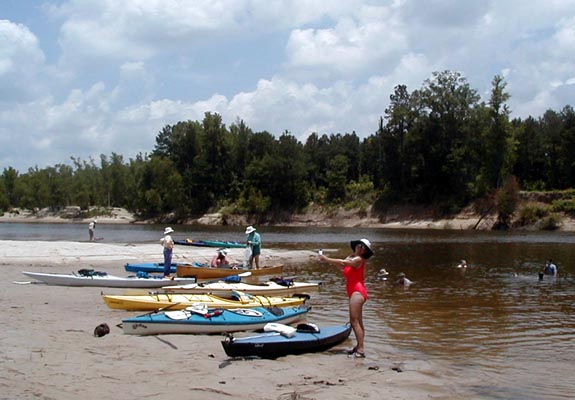 On Saturday, May 29th, members of the Texas Sea Touring Kayak Club launched on the Sabine river from Texas Highway 63, a few miles below the dam at the southern end of Toledo Bend Reservoir. Since we didn't get into the water until almost noon, we only paddled a little way down to a convenient sand bar, where we stopped for lunch.

In the photo at left may be seen my sweetie, Lisa Walker, in the pink suit. In the background standing by a tan canoe are Sherry and Bruce Gillan, who lead the trip for the club. To the right of Lisa in the water are most of the other paddlers on the trip, who were far too sensible to stand around in the noonday sun. One is reminded, on days like this, of General Phillip Sheridan, who said, "If I owned both Texas and Hell, I would rent out Texas and live in Hell."

The water in the upper Sabine comes out of the bottom of the reservoir, and is delightfully cool on a warm day. Many of us spend most of our paddling time on salt water, and for us it's a special treat to be able to cool off by jumping into nice, cool, fresh water.