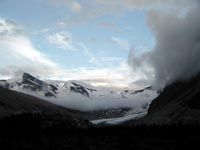 This picture is a view of Robson Glacier, which starts on the northeast face of the mountain, and runs north and then to the west around a lower peak called Rearguard, from which the name of one of the campgrounds is taken. Rearguard is the peak seen on the right side of the picture. The view is up toward Snowbird Pass. There is a trail from near the Robson Pass campground up to Snowbird Pass, which I originally intended to dayhike on Thursday from my camp at Robson Pass, but my feet were sore enough that I decided to give them a break, as the trail is almost 7 miles each way, with a significant elevation gain.

There are several dayhikes which could be taken from any of the high campgrounds near the lake. The next time I do that trail, and I will do it again, I will schedule two days to get up to the lake, and several days there, to do day hikes.

On my rest day in camp, I sat by the fire and chatted with other campers. There were two couples who were all active or retired Canadian schoolteachers, who had been up in the area before, and we conversed about dayhikes in the area, school systems, and life in general.

For a sidebar on modern backpacking gear "Cotton Kills Above the Timberline", click here.

There was also a family who had been there for 12 days, a physicist from the university at Boulder, Colorado, his wife, who had attended the University of Texas while I was there, and their two children. They had flown in by helicopter with the mountain of food and equipment it takes to maintain a family with hungry children for that length of time. The physicist and the kids were hiking out the same day I left, while the wife would fly out with the gear. Helicopter flights are permitted into a pad near the Robson Pass campground only on Mondays and Fridays. I have a bias against those flights - but they do allow people who couldn't get up the trail to visit the area. One of the teachers who was there has a bad back, which doesn't permit him to carry a load, and he would be otherwise unable to see that country, but he can dayhike in the area. His plight, and those of similar people, gives me some sympathy for that helicopter operation I would otherwise lack. Some.

One would think that the hike out, mostly downhill, would be much easier than the hike up. It wasn't. Going downhill is nearly as tiring as going uphill, though it tends to be faster. I got down the mountain from Robson Pass in 8 hours, while it took me about 10 hours to get up. After drying out the gear and putting it away, I ate a huge dinner, and went to bed early. I didn't have as much muscular soreness the next day as I did after the Harding Icefield trail, but my feet hurt more, since even strenuous aerobic training won't get your feet in shape for a 50 pound load. I'm going to be working on that doing some day hikes in Alberta.

It was marvelous. As always in this kind of country, the pictures don't begin to do it justice.

I'll be back.