---
My original plan, as I have done in the past, was to create one web page for the entire trip with commentary and pictures. That plan went out the window on the first day of the actual walk, because of how spectacular the scenery was between Westward Ho! and Clovelly. So, here's how the trip started. At the bottom of this page are links to the individual days of the walk. Enjoy!
In 2013, a group of eight people, some old friends and some new ones, took a little walk in Spain, 210 miles on the Camino de Santiago, a story told in Eight Friends on the Camino de Santiago. In 2014, some of that same group took a little walk in France, 140 miles on the Camino Frances, a story told in The French Camino. The last sentence in that story was, "And who knows what next year will bring?"
The answer is here. This year there are seven, Tristan and Alexandra (Alex) MacDonald, the driving force behind these adventures, John Tesdorpf, Sally Dietterle, Wilf Cameron, Ian Hicks, and me, Lindy Sisk. The MacDonalds, John, and Wilf reside primarily in St. Augustine, Florida. Sally lives in Langley, British Columbia, Canada, Ian in England, and I in Texas.
We are walking on The Southwest Coast Path
Author's note: Click on pictures to get a higher-resolution image. Use browser back button to return
Day One, Sunday, May 31 & June 1 - Flight to London
In a previous article about one of our trips with the kids to Europe, I likened a transoceanic flight like being ingested by a giant animal: You go in one end of the animal, for an uncertain amount of time, getting progressively more tired and dirty, and are eventually pooped out at your destination, and you're never quite sure what condition you will be in at the end.

I have not changed my opinion about that. However, the years since I wrote that have seen the invention of in-ear noise-cancelling headphones like my Bose QC20i, and that makes a big difference in the amount of sleep one can get on an airplane.

Yesterday, I flew from San Antonio to Baton Rouge, as my trip had been planned to originate in Baton Rouge. I spent the night in a hotel, then got up at 3:30 for the flight to Charlotte, North Carolina, to meet up with Tristan, Alex, and Wilf for the flight to London. Both of those flights were uneventful. As I write this at noon Sunday, the departure time for the London leg has been pushed back by an hour and a quarter. So, we'll see...

The flight from Charlotte took off about 2 hours late, and we got to Heathrow seven hours later. I was able to sleep a few hours on the plane. There was a considerable line at immigration, and only 4 officers on duty, so it took a while to get through. Fortunately, all of our checked baggage made the flight, and soon we were outside waiting for the bus to take us to the rental car place. The car was procurred with little drama, and the next task was to get out of the car park, which took some circling around until we were finally able to find the badly marked exit, and get on to the M4 motorway for the drive to Wells to spend the night.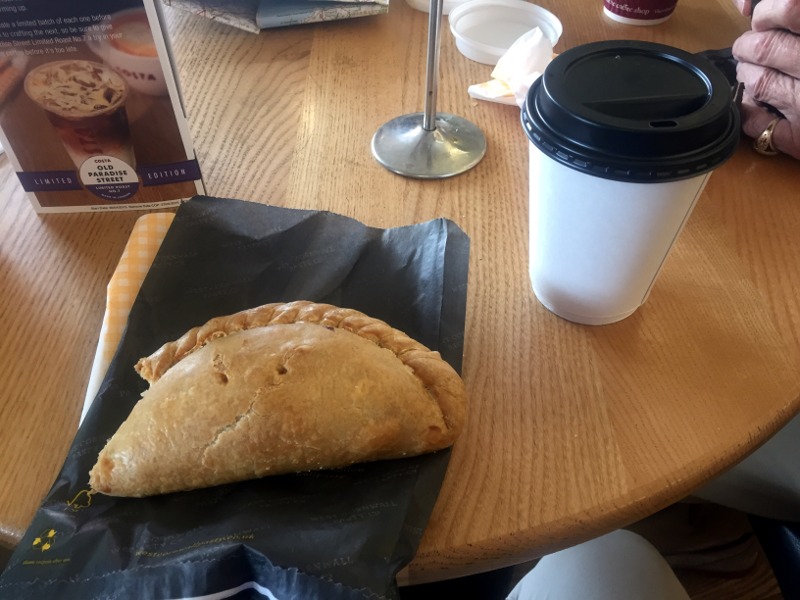 We stopped on the way to get coffee, and decided to get something to eat. Wilf, Tristan and I had Cornish pasty - beef, potatoes, and turnips - I think - wrapped in a flaky and delicious crust, while Alex had a sandwich with cheese and something else. We extricated ourself from the narrowly-spaced car park, and resumed our journey.
When we got to Wells, we found the hotel, after asking a delightful lady putting plants in a common area on a street corner for directions. Once at the hotel, we parked in front, and Alex went off to ask for directions on where to park the car. Just after she did so, John Tesdorpf emerged from the separate door to the hotel bar, and we were united with John and Sally.
| | | |
| --- | --- | --- |
| Wells Cathedral | Swans in the moat | |
That afternoon, we toured the Wells Cathedral, then returned to the hotel for rest, and dinner. Alex and I both were getting sleepy during dinner, and we called it a day pretty early. I slept all right, but woke up about 2:30 AM, and could not immediately go back to sleep, so I made a Skype call to my fiance, and made a Facebook post. After an hour or so, I got back to sleep, and slept through until about 7:30.
Day Two, Tuesday, June 2 - Wells to Westward Ho!
We had breakfast in the hotel, and then explored the Bishop's Palace, with its moat, including the swans swimming in the second image above. Then we drove down to Barnstable, where we dropped off the two rental cars, and took taxis into Westward Ho! (And, yes, the exclamation point is part of the proper name.) We were split among two hotels, with Tristan, Alex, and I in one, and John, Wilf, Sally, and Ian Hicks, who had joined us from his home, in another. After dropping bags in the hotel, T&A and I walked down the hill to the other hotel, for drinks, and, eventually dinner. Tomorrow starts the walk!
Listed below are individual web pages for each walking day of the trip, with mostly photos and not so many comments - because the photos are what I want you to see.
Day 1 - Walk from Westward Ho! to Clovelly
Day 2 - Walk from Clovelly to Hartland Quay
Day 3 - Walk from Hartland Quay to Morwenstow
Day 4 - Walk from Morwenstow to Bude
Day 5 - Walk from Bude to Crackington Haven
Day 6 - Walk from Crackington Haven to Tintagel
Day 7 - Walk from Tintagel to Port Isaac
Day 8 - Walk from Port Isaac to Padstow
Day 9 - Walk from Padstow to Porthcothan
Day 10 - Ride from Porthcothan to Newquay
Day 11 - Walk from Newquay to Perranporth
Day 12 - Walk from Perranporth to Portreath
Day 13 - Walk from Portreath to Hayle
---