Meanderings
by Linden B. (Lindy) Sisk
---
These are pictures from various places I have traveled. All of the pictures are linked to a larger version - just click on the picture.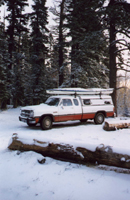 At left is my Dodge truck at the East Rim overlook of the Grand Canyon in mid-October, 1997. It got down to 19 degrees F. overnight, and snowed. The morning was beautiful.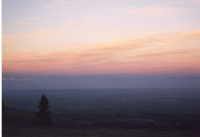 The picture at right was taken from the East Rim overlook at the Grand Canyon the evening before it snowed. One thing a lot of people don't know is that, generally speaking, you can camp anywhere in a National Forest as long as you're more than a hundred feet from a road. I found this place on a day when every campground at the North Rim of Grand Canyon NP was full. I had the place to myself, and it was free. If you get a good map of the area, you can find it easily, as long as you don't mind driving off a paved surface. Lots of people don't want to look for places like that. Good.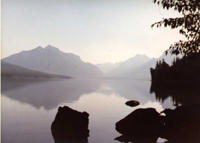 This is Lake MacDonald at Glacier National Park, when I was up there in 1990. The farthest ridge of mountains in the background is 243 miles away, according to a plaque in Apgar Village. I'd call that clear air. You may recall that 1990 was the year that Iraq invaded Kuwait. It was also the year that I spent much of the summer working out of the company office in Powell, Wyoming. I spent all my weekends in the surrounding mountains - the Grand Tetons, the Absarokas, the Beartooths, and in Yellowstone National Park. My boss at the time, a complete putz, suggested that since I'd had a nice vacation at company expense, I should forego my vacation that year. Nice try, no cigar..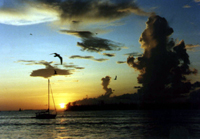 The beautiful sunset at right was at Mallory Square, Key West, Florida. I was there in 1994, I think, on a kayaking trip which included Everglades National Park.
That's my tent and kayak on Lake Powell. I spent a week there in 1994. It's a splendid place for sea kayaking, with lots of beaches, many in places where powerboats and houseboats don't want to be. There is more at Paddling Lake Powell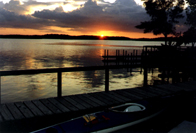 On the same trip I visited Key West, I also visited the Everglades. The picture at right was taken from Chokoloskee Island on the west side of Everglades National Park. It was the starting point for my trip into the 10,000 Islands section of the park. I was paddling the 17-foot Wenonah Sea Otter kayak you can see at the bottom of the picture. I highly recommend Peter Matthiessen's historical novels about that area, Killing Mr. Watson and Lost Man's River. Killing Mr. Watson is one of the two best novels I've ever read. Matthiessen writes with a wonderful sense of place, and paddling in that area after reading Watson was kind of eerie. (Lostman's River came out later.)
That's me underwater near Cozumel, Mexico. I had fun getting my diving certification up to date prior to the trip. I took a refresher class with an instructor who is my age. Also in the class were a bunch of twenty- and thirty-somethings. The instructor was amused that I whipped all the young people on the swimming tests. The water in Cozumel is beautiful, with lots of reefs and walls, as well as abundant shore diving. Several of us went on a nice shore dive one night, where we saw some different sea life than is out during the day.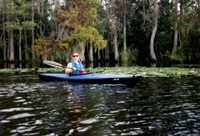 This is Lisa in her Feathercraft K-lite kayak, on the Tchefuncte river near Madisonville, Lousiana. We've been regular attendees at the Madisonville Wooden Boat Festival, which is held annually in late September. There is a nice state park just outside Madisonville where we camp. Lisa's kayak is a 29-pound folding kayak, with a frame made of aluminum tubes and other pieces, which goes inside a skin. The hull skin is Hypalon on the bottom, and Cordura on the top. Hypalon is the material Zodiac and other inflatable boats are made from, so it's quite durable. I have a Feathercraft K-1, which is similar in construction but larger. The disassembled boats pack into backpacks, and can be transported by commercial airliners anywhere in the world.
The Madisonville Wooden Boat Festival draws boats from all over the South. Some are quite old - close to a hundred years old. The festival has lots of good local - Cajun - food, and usually some good music. One year we heard a dynamite dulcimer group. Southern Louisiana is one of my favorite places - I spent some time around Houma building seismic boats for Texaco, and I enjoyed it immensely.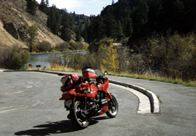 Not all of my trips have been in the truck. Many of my summer excursions into the western U.S. have been on motorcycles, first on a BMW-R80RT, a touring motorcycle with a full fairing and saddlebags using the original-design horizontally-opposed air-cooled twin, and later on this BMW-K75S, a sport bike with anti-lock brakes and a water-cooled engine. This picture of the loaded bike was taken next to a river in Idaho. Returning late from one trip because of the illness of a friend, I rode from Seattle, Washington to Houston, Texas in three days. The first day, from Seattle to Salt Lake City, covered 1030 miles through some really pretty scenery, including passing just north of Mount Saint Helen, but that makes for a long day, even at the speeds that bike is capable of. Since I mostly want to carry a kayak with me these days, I don't ride the bike much on long trips any more.
Actually, if the truth be known, my all-time favorite road is U.S. 89, from its start near Nogales, Arizona, to the Canadian border near Glacier National Park.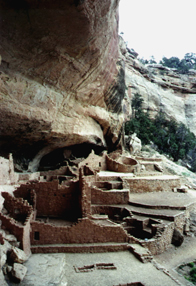 This is Mesa Verde National Park. Lisa, Sarah, Emily and I took a long road trip in a rented 26-foot motorhome in 1997. The girls had never seen the western U.S., so I took them on some of my favorite roads. We went from here toward Carsbad, New Mexico, and got to Durango, Colorado, Mesa Verde National National Park, Bryce Canyon NP, Grand Canyon, Lake Powell, and then back home. We rode the Durango-to-Silverton Narrowgauge Railway, and did a lot of touristy stuff, but we also spent a lot of time on backroads and in off-the-beaten-path National Forest Service campgrounds. That was a year of droughts in the west, and some terrible forest fires, but we managed to avoid the fires. We saw some beautiful country.
You've probably figured out by now that I really like wandering around in the western U.S. I live in the third-largest city in the U.S., and it's nice to get out and get a reminder that much of the U.S. really hasn't many people in it. There's a lot of wide-open space out there - and if you don't believe that, try riding a motorcycle across Texas. Miles and miles of bloody Texas. In the summer, one can easily understand why General Phillip Sheridan said, "If I owned both Texas and Hell, I would rent out Texas and live in Hell." Of course, Phil and his fellow soldiers had to ride across Texas on a flesh-and-blood horse, rather than an iron horse, but it's a long way from Beaumont to El Paso - 790 miles.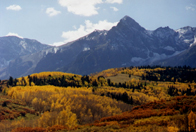 These are aspens in the fall on the back road between U.S. highway 550 and Telluride. If you're in Durango, you can drive north on the million-dollar highway - so called because that's what it cost to build it, per mile, back when a million dollars was a lot of money - and get to Silverton and then Ouray. In Ouray, be sure to stop at a shop which sells homemade ice cream, right as you come into town on the left (west) side of the road. They have blueberry cheesecake ice cream in there which is worth a thousand-mile drive.
Leaving Ouray headed north on 550, you can take highway 62, then 145 into Telluride. From Telluride, go south on 145 back toward 160 to get back to Durango, if you need to go back there. On the trip where I took this picture, I didn't. I took Forest Road 535 off to the west from 145 toward Dunton. FR 535 wanders along the Delores river through some of the prettiest country I've ever seen, but that road is a one-lane dirt road, and you better be driving something with ground clearance - which I was. The rule of the road, by the way, if you meet an oncoming vehicle, is that the descending party has the right of way. The ascending party will back up until he get to a spot where they can pass. A little common sense, though, sometimes overrides the convention. There are more pictures of Colorado fall colors.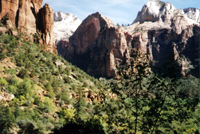 This is Zion National Park, and yes, that is snow that you see up on the topmost peaks. I'd love to get into the backcountry of Zion during the winter. In fact, I'd like to get into a lot of places during the winter. When it looked like my company was going to let me retire in January of 1999, I was planning to take a National Outdoor Leadership School course on winter mountaineering and backcountry skiing. Since the company asked me to stick around until July of 1999, that one will have to wait another year. High on my priority list is snowshoeing or cross-country skiing in Yellowstone. Last I heard, snowmobiles are restricted to roads in Yellowstone, and I hope that hasn't changed.
That's all for now - this file is big enough. See the links below if you liked this.
---
&copy 1990-1998, 2011 by Linden B. Sisk. All rights reserved.
---
If you like travel writing, see: Travels with Samantha
That's Philip Greenspun's site. He's on the EE and CS faculty of MIT, but he's also a professional photographer, and Travels With Samantha is great reading as well as an education in Web authoring. He's got a book on Web authoring coming out in January, 1999, which can be read on-line at his site, and in my opinion, ought to be read by anyone who ever intends to author a Web page.