Comments by Lindy Sisk
Author's Note: All of the pictures on this page are a link to a larger version of the picture. Click on the picture, and then use the browser back button to return.
---
Who Was Lisa Walker?
Lisa was a brilliant, creative, quiet, and contemplative woman, who wished only to live in peace, and who suffered in the end from the very disease which most robs its victims of that quality.
She is now at peace.
She was a gardener. Look at the height of the sunflowers next to her in the first picture.

She was a writer. While working as a CPA, she was admitted to Rice University to do graduate work in English, studies which ended with the pregnancy and birth of her first daughter.

She was a builder. When we came back from Colorado in the fall of 2006, she decided that we needed a deck. I was helping teach three solid weeks of classes, and unable to help - so, she designed and built it herself. The vertical 4X4 posts are set in concrete footings, which she mixed and poured herself. The 2X4 structure and posts were through-bolted with half-inch galvanized hardware, and the deck screwed down with hundreds of deck screws. In the summer of 2011, I crossed a professionally-built bridge over a creek in Colorado which was not so well built.
She built dressers, bookshelves, tables, shelves, a pantry cabinet, and other accoutrements for our RV. She re-tiled the floor. She covered the dinette and the bathroom counters with half-rounds of glass set in grout.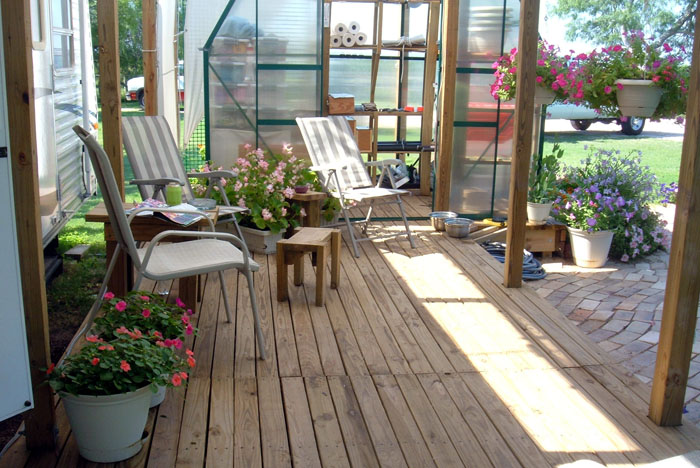 She was a creative and passionate needleworker. The bedspread she quilted, and then applied all of the crocheted needlework. She made all the pillows. The paintings on the wall are hers.
She filled our lives with color and beauty.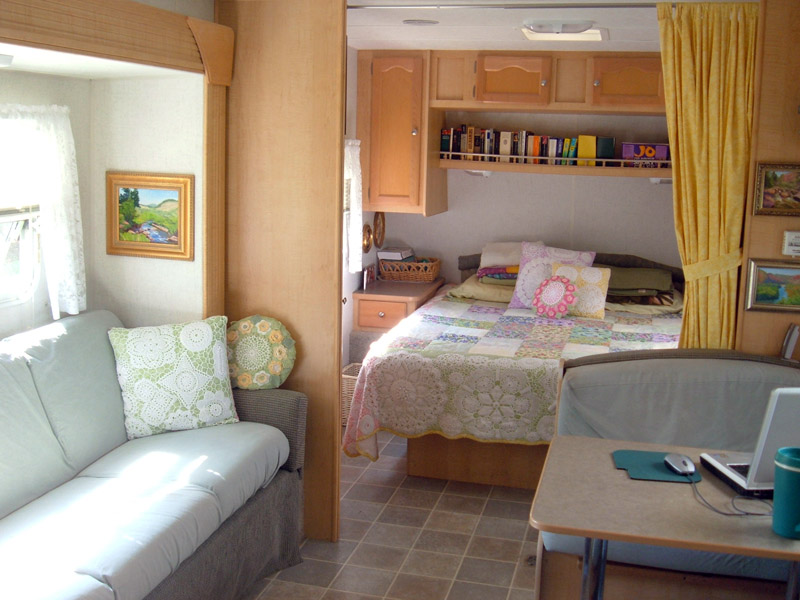 She was a kayaker. One of her daughters will be paddling the Feathercraft kayak shown in the picture.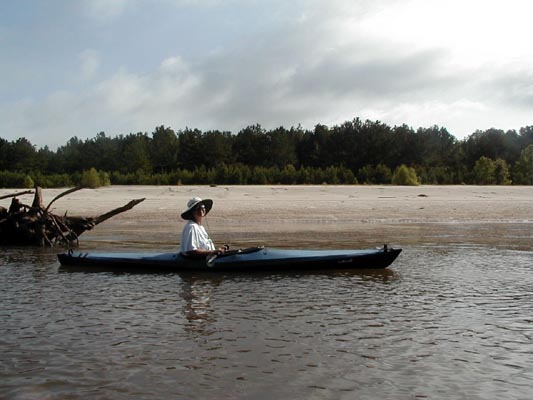 She was a sailor. She learned all of the skills involved in sailing like rules of the road and navigation, and often took her daughters and her friends sailing when I was not with them. She loved the Compac 16 in the picture below. She was perfectly capable of sailing it alone, and often did.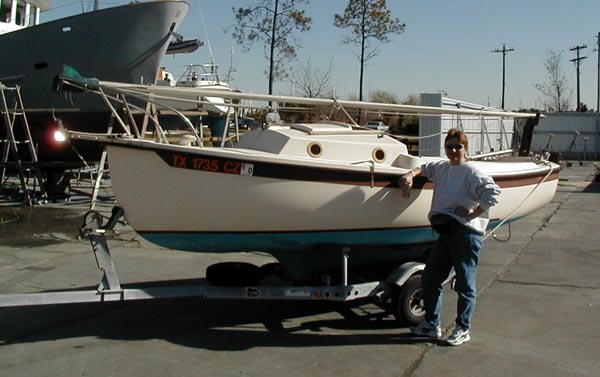 She was a hiker. The trail marker in her hand in the fourth picture is above 12,000 feet on the Continental Divide Trail in the Weminuche Wilderness in Colorado.
She hated being cold, and she didn't like heights, but she accompanied me into cold and sometimes high places, because I love the mountains - and she loved me.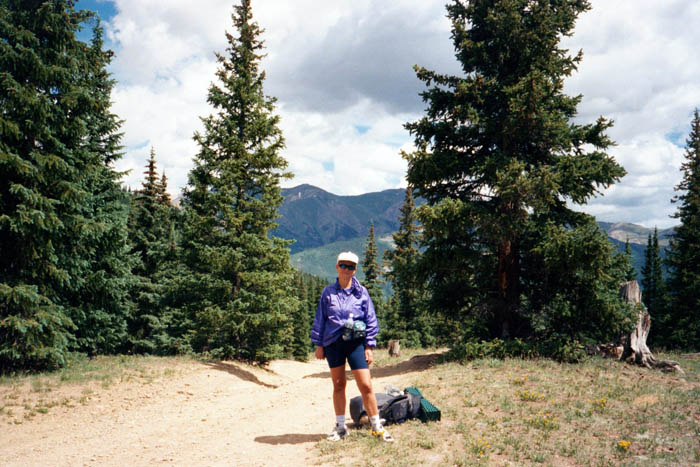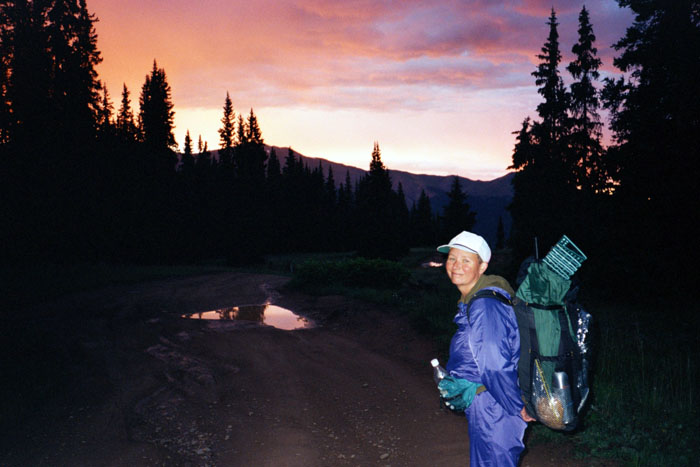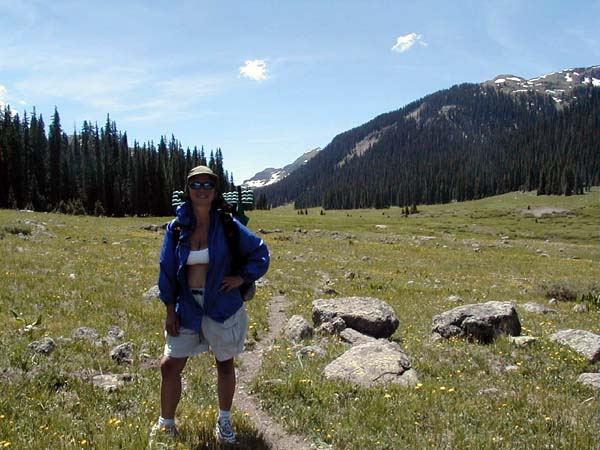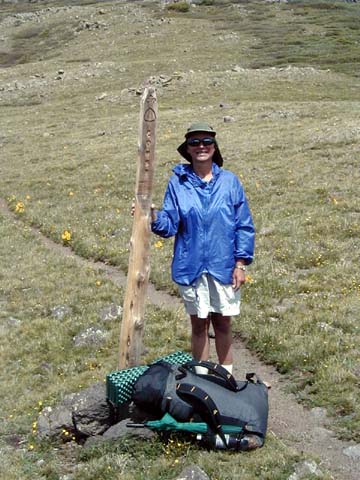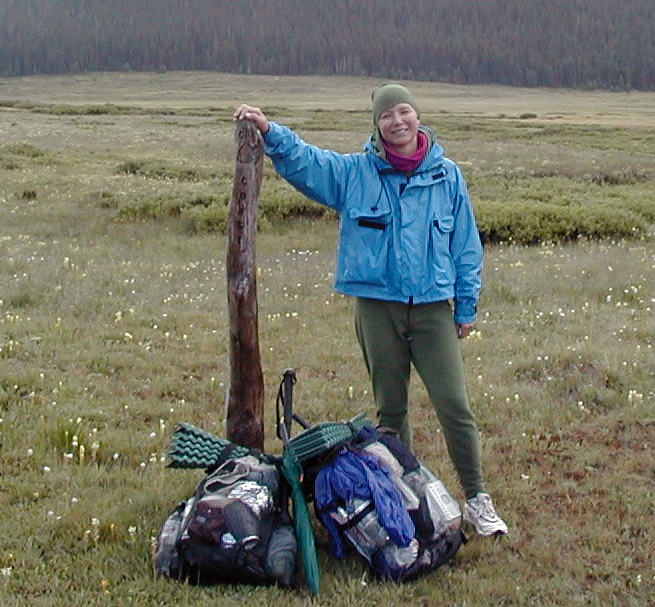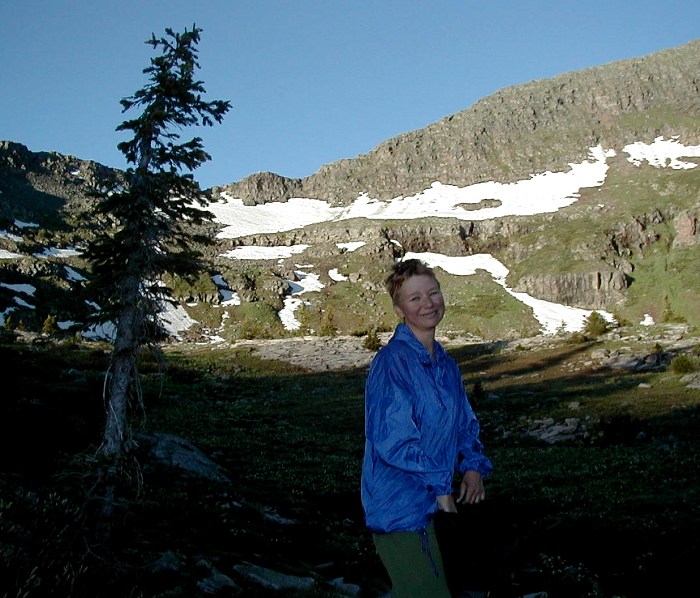 She was a landscape artist. She painted and sold hundreds of landscapes and other paintings. This was her art web site: Lisa Walker Art

She was a jewelry maker.

All of these things Lisa Walker was.
But the role most important in her life to Lisa was to be the mother of Sarah, on the left, and Emily, on the right.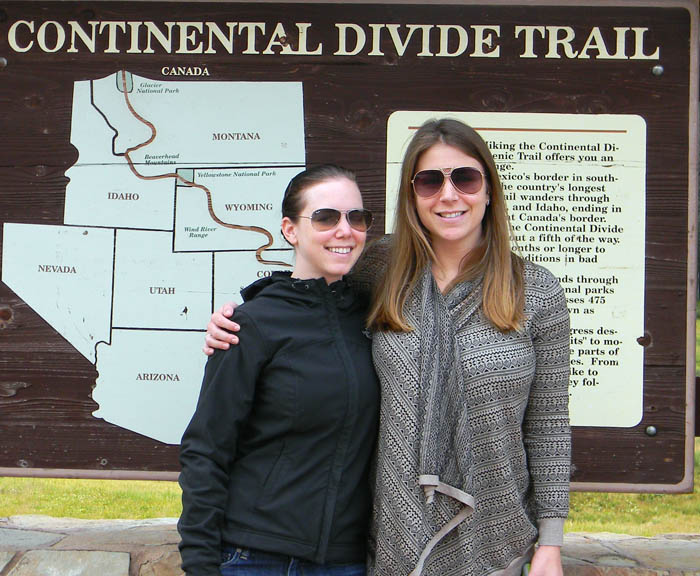 They were always first in her life. During most of her working career, she was fortunate enough to have an immediate supervisor who so valued her skills as an accountant and computer system developer that he was willing to give Lisa the leeway to put her daughters first in her life. When they were sick, she tended to them. She sacrificed financially for them - she abandoned her career as a highly-compensated professional to be at home during their last two years of high school, because she wanted to be there to give them whatever they needed, and wanted them to know that they were her highest priority.
Most of all, she agonized over the best way to raise them, to give them the freedom she knew they must have to develop as individuals, without giving them too much freedom.
Most of all, she listened to them - and constantly agonized over whether she was doing the right things. And she forgave their transgressions, and understood that one grows in judgement by making mistakes.
Lisa said over and over to me that nothing they could ever do would cause her to love them less - and I knew it was true. And I also knew that if I were ever so foolish as to make her choose between loving her daughters and loving me, I would lose. But that never came to be an issue, because I loved Lisa - and Sarah and Emily.
And the proof that she did her most important job well, exists in those two beautiful young women, who are living testaments to Lisa's immense capacity to love others.
She was a Christian and passionate pro-life activist, who supported that cause in her own quiet way by standing with her friend Pat on a street corner next to an abortion clinic and giving away hundreds of rosaries which she made and offered to people seeking to enter the clinic, and to anyone who passed by and would take one. We know, from the testimony of a couple who stopped to tell her, that she saved one life by the power of the rosary she gave them. There may well be more. We don't know that, but God does.
She was a woman who loved, and taught others to love, not by words, but by demonstrating through suffering and sacrifice the true nature of love. She knew, and demonstrated through her life, that love is not a feeling - it is an activity, something which you do. And she did.
Her passing leaves an enormous, gaping hole in the lives of her family and friends. Those of us who are left behind should and must take consolation in the fact that the peace she desperately sought in her life is now hers.
I had nearly 20 years of happiness with Lisa. She was my soul mate. I can't recall that we ever had a serious argument before the disease which took her. I am grateful for those years, which is more than many people get.
I'll stop now. I'm crying, and it's hard to see the computer screen.
---
Comments by Susan Sultan, mother of Jonathan Sultan, and grandmother of Lisa's daughters, Sarah and Emily.
Lisa was beautiful. (Someone once told my mother she had the face of a Madonna.)
She was very bright without being a know-it-all.
She was gracious and kind.
She was a wonderful mother.
She was once my daughter-in-law, and I loved her very much.